Aysha Anderson is on her knees, sucking cock while rolling her eyes like hood rats do when the situation isn't advantageous for them. She thought that I would pick up on her attitude and feel bad for her. Not at all. I said, "Do you like reluctantly sucking on a white man's penis?" Her eyes lit up with rage, and she started acting more ghetto. I haven't found it yet, but there is definitely a ghetto switch on black chicks. It gets activated when they are not happy or mad. Anyways, she looked me right in the eyes as she sucked on Big Red's cock. They were filled with anger, and the realization that just because we are white, we aren't sucka's. That was literally etched in stone when the load was shot into her mouth and she began to play with it, over and over and over, with a look of hatred and ill contempt. Whores need to know that trying to keep your pride and that "tough act" up doesn't work when a cock is in your mouth and you are drinking cum from a glass.



CLICK HERE FOR MORE EBONY CUM DUMPS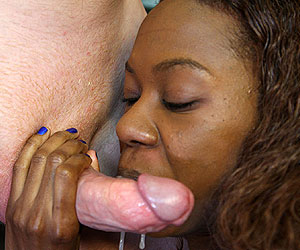 Last Modified:
April 27th, 2009
Filed under:
Ebony Cum Dumps
Navigate:
« Previous post
/
Next post »
Comments (7 comments)
---
Posted by: roland / August 23rd, 2014, 11:00 pm / #
---
Posted by: barry / August 26th, 2014, 11:07 am / #
---
Posted by: steven / November 22nd, 2014, 12:42 am / #
---
Posted by: billy / December 12th, 2014, 7:00 pm / #
---
Posted by: ronnie / January 20th, 2015, 3:33 pm / #
---
Posted by: Alberto / January 29th, 2015, 10:26 pm / #
---
Post a comment
Comments are closed for this post.