Karamel had a rough shoot for Ghetto Gaggers that reduced her to tears. So what does she do? She calls us up out of the clear blue to work with us again. She told us she had so much fun, that she wanted more. Now, Ebony Cum Dumps is a blowjob/swallow site. She turned it into a Ghetto Gaggers scene almost. She was deep throating Big Red's cock to the balls on every stroke. She wanted her ass spanked and her face smacked. I think we created a freak. She opened wide and gulped down Big Red's load, and then played with it. She is totally into being a freak now. Bottom line is, they all come back for more.



CLICK HERE FOR MORE EBONY CUM DUMPS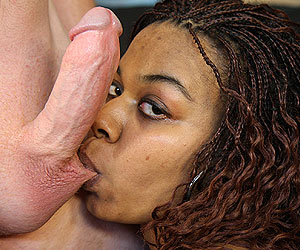 Last Modified:
April 19th, 2009
Filed under:
Ebony Cum Dumps
Navigate:
« Previous post
/
Next post »
Comments (3 comments)
---
Posted by: Vincent / November 24th, 2014, 10:11 am / #
---
Posted by: jeffery / December 22nd, 2014, 2:40 am / #
---
Post a comment
Comments are closed for this post.