22 Dec 08
Big Cock For Anna Nova
Anna Nova slithers off the sofa looking for a big cock to penetrate her pussy. She opens up a slit in her hose so she can be taken from behind without having to get fully naked. She opens up a good size hole and bends over. The cock enters her wet pussy through the hole in her hose as she begins to moan like a caged cat. She truly enjoyed how that big cock filled her up.
CLICK HERE FOR MORE PANTYHOSE BABES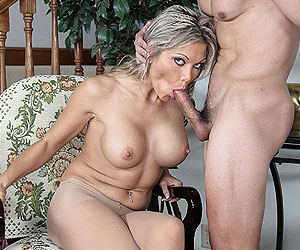 Last Modified:
December 22nd, 2008
Filed under:
The Pantyhose Site
Navigate:
« Previous post
/
Next post »
Comments (5 comments)
---
Posted by: arnold / August 23rd, 2014, 3:49 pm / #
---
Posted by: Barry / November 16th, 2014, 9:25 am / #
---
Posted by: Andrew / December 23rd, 2014, 7:51 pm / #
---
Posted by: Jesus / February 3rd, 2015, 3:44 am / #
---
Post a comment
Comments are closed for this post.