Vicky is a Latina doing her first porno. I asked her what type of stuff turns her on, and she had no idea. I knew right then she was a total sexual rookie, but was so eager to learn. Cock after cock went down her throat, and although it made a terrible mess, she loved the experience. She liked her hair being pulled, and her face being slapped. All of this somehow intrigued her. We bent her over and two huge cocks went to town. She wasn't used to cocks with such length and thickness. She took them deeper and deeper as her tits were smacked and she was fish hooked like a catfish. Then we all nutted on her face. 5 Loads for this rookie!



CLICK HERE FOR MORE LATINA ABUSE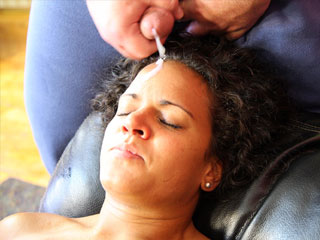 Last Modified:
September 21st, 2009
Filed under:
Latina Abuse
Navigate:
« Previous post
/
Next post »
Comments (5 comments)
---
Posted by: kyle / August 26th, 2014, 7:05 am / #
---
Posted by: jesse / November 11th, 2014, 9:00 pm / #
---
Posted by: gilbert / December 9th, 2014, 4:14 pm / #
---
Posted by: Terrance / December 24th, 2014, 4:45 pm / #
---
Post a comment
Comments are closed for this post.