This is seriously Tia's first shoot. Despite what anyone else says.. Trust me.. Now what happens when you have a fucking piece of shit whore who is cheating on her boyfriend and thinks she can get any guy because she shakes her stupid whore ass at a go-go bar. What do you do? You destroy her. We shoved cock down her throat like how you shove an old piece of furniture off the 3rd floor balcony. It wasn't long until she was exasperated, filled with puke and spit, and a few tears. Then she started riding cock. Her tits were bouncing like Stevie Wonders head. She had a smokin' body. I am pleased we were able to enjoy it, and especially dump our loads all over that 19 year old face.



CLICK HERE FOR MORE FACIAL ABUSE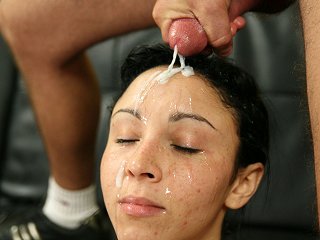 Last Modified:
September 3rd, 2009
Filed under:
Facial Abuse
Navigate:
« Previous post
/
Next post »
Comments (5 comments)
---
Posted by: Craig / November 19th, 2014, 8:13 am / #
---
Posted by: Ralph / November 23rd, 2014, 12:50 am / #
---
Posted by: otis / December 4th, 2014, 8:07 am / #
---
Posted by: otis / December 4th, 2014, 8:37 am / #
---
Post a comment
Comments are closed for this post.