Anna Bell is an ink blot away from being bonkers. She looked better in her pics, but what can you do. We just wanted to get it over with. Sometimes shooting a whore can feel like work, and this was no exception. We just went for it, laying on the insults and the abuse, slapping the taste out of her mouth over and over until she was a pile of slop. She kept complaining as the Red's big cock drilled her ass, and she lay there over the pillar of woe with a look of exasperation. Then we just came on her face to get her fuck out of here.



CLICK HERE FOR MORE FACIAL ABUSE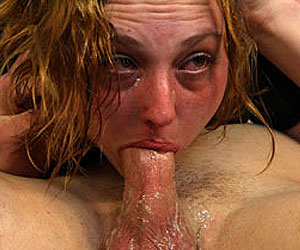 Last Modified:
July 21st, 2009
Filed under:
Facial Abuse
Navigate:
« Previous post
/
Next post »
Comments (6 comments)
---
Posted by: Frederick / August 23rd, 2014, 3:44 am / #
---
Posted by: frank / August 25th, 2014, 9:27 pm / #
---
Posted by: eddie / August 25th, 2014, 11:49 pm / #
---
Posted by: Raul / December 19th, 2014, 11:43 am / #
---
Posted by: bruce / December 21st, 2014, 12:38 am / #
---
Post a comment
Comments are closed for this post.