Angelica is a first timer Latina MILF. She is so submissive and so eager to please, I had to pinch myself. The entire time she's asking us if she's doing ok. "Am I doing good? am I?" I'm like, "Well, you could take some more slaps and a DP, that would really make you great." The next thing you know I'm smacking her around like a drunk Cuban grandfather, and she has two cocks in her holes. She really took a good pounding too. She was all too willing to degrade herself if that meant making us happy, which it did. Then we dumped 2 loads on her face which sat there, all clumpy. Then she wiped all the cum into her open whore mouth.



CLICK HERE FOR MORE LATINA ABUSE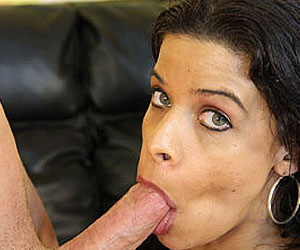 Last Modified:
June 11th, 2009
Filed under:
Latina Abuse
Navigate:
« Previous post
/
Next post »
Comments (2 comments)
---
Posted by: jackie / January 17th, 2015, 8:35 pm / #
---
Post a comment
Comments are closed for this post.