Sexy's boyfriend sent her up here so she could bring home some money for this month's rent. Sexy began the scene, and an within two minutes she was kneeling over the dog bowl ready to call it a day. She got back on the phone with her boyfriend and she said, "Fine, I'll finish it, but you better hold me when I get home." I thought that was priceless, as this cute little 20 year-old Latina was treated like a pig for the first time in her life. She was used to dancing in high-end places, but now she's reduced to kneeling before two gringos with their cocks in he face. It was her first time for cum on the face too, and you could see it in the way she cringes, that her dignity and pride have been torn by several huge gringo cumshots.



CLICK HERE FOR MORE LATINA ABUSE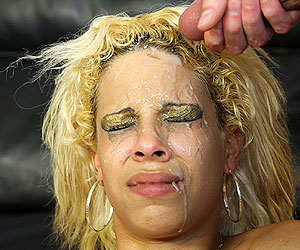 Last Modified:
May 11th, 2009
Filed under:
Latina Abuse
Navigate:
« Previous post
/
Next post »
Comments (9 comments)
---
Posted by: edwin / August 22nd, 2014, 3:48 pm / #
---
Posted by: John / November 21st, 2014, 6:03 am / #
---
Posted by: lee / November 26th, 2014, 8:06 am / #
---
Posted by: harry / November 28th, 2014, 9:55 am / #
---
Posted by: manuel / December 11th, 2014, 12:21 pm / #
---
Posted by: marvin / December 15th, 2014, 4:15 am / #
---
Posted by: gerard / December 21st, 2014, 1:17 pm / #
---
Posted by: Andy / January 20th, 2015, 8:29 pm / #
---
Post a comment
Comments are closed for this post.